Sterile Packaged Instrument Kits
Each cleanSTART® instrument kit is all-inclusive with respect to its designation and provides immediate access to pristine instrumentation of uncompromised material integrity and engineering design for each surgery. Sterile instrument cartridges are available for the Airlock® Plating System & Nexis® Screws.

The perfect match for Novastep's sterile implants.
Zero risk of damaged or missing instruments.
No sterilization costs or associated delays.
Simplified logistics, streamlined OR prep times
and multiple OR placements.
Instantaneous access to back-up instrument kits
Minimized storage and sterile field volumes
Reduced handling weights, enhanced inventory
control and optimized traceability
Financially sound, environmentally safe, globally smart
Innovative Packaging Design
and Instrument Deployment*
Each sterile packed instrument kit is neatly arranged in its own quickTUBE™ containment cylinders and may be accessed from a dedicated instrument Dispenser console.
Peel strips facilitate visual confirmation of sterility and provide convenient access.
Nested tube packaging ensures sterility.
Cartridges are designed to improve productivity with minimized deployment footprints.
Instrument Dispenser Console
The Instrument Dispenser reduces the need for cumbersome sterilization trays and delivers a combination of optimized logistics, enhanced productivity and superior inventory management. Each Dispenser may be arranged to cover multiple surgeries and numerous indications.
Accommodates any assortment of instrument kits.
Instrument cartridges are efficiently organized and kits are available for immediate use.
Dispensers may be uniquely configured to meet individual requirements, easily discernible color-coded labels are provided for convenient identification.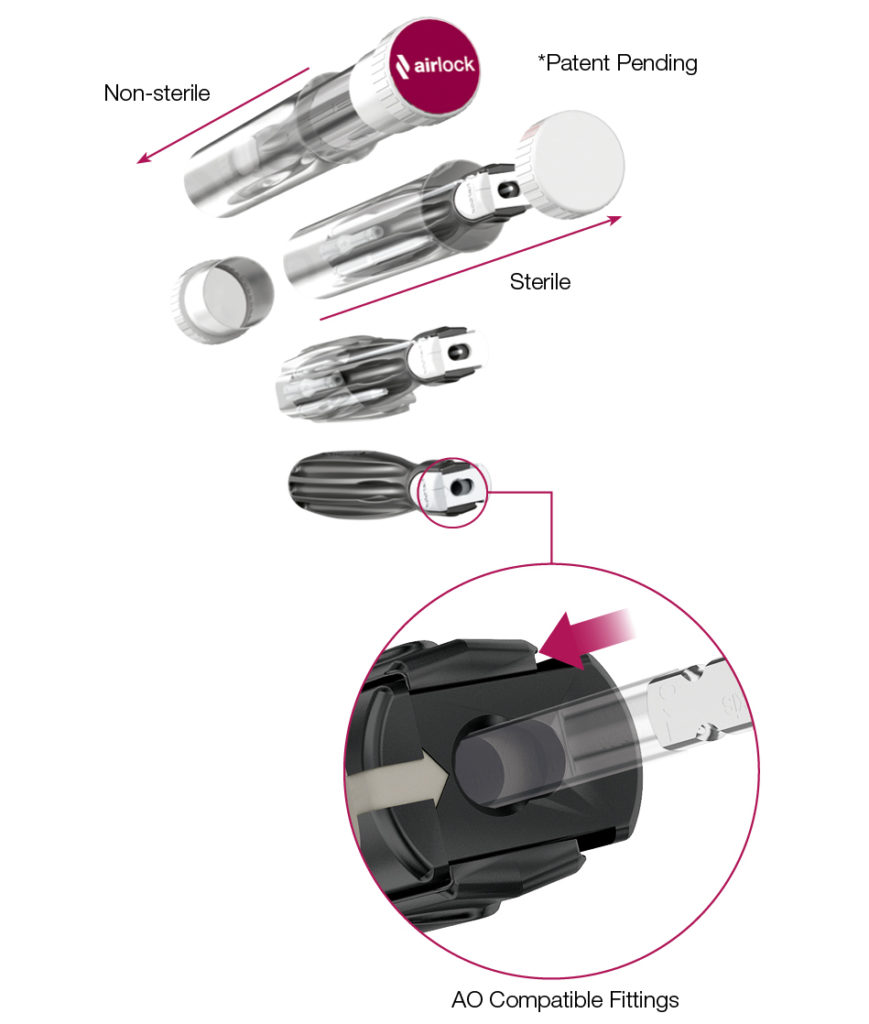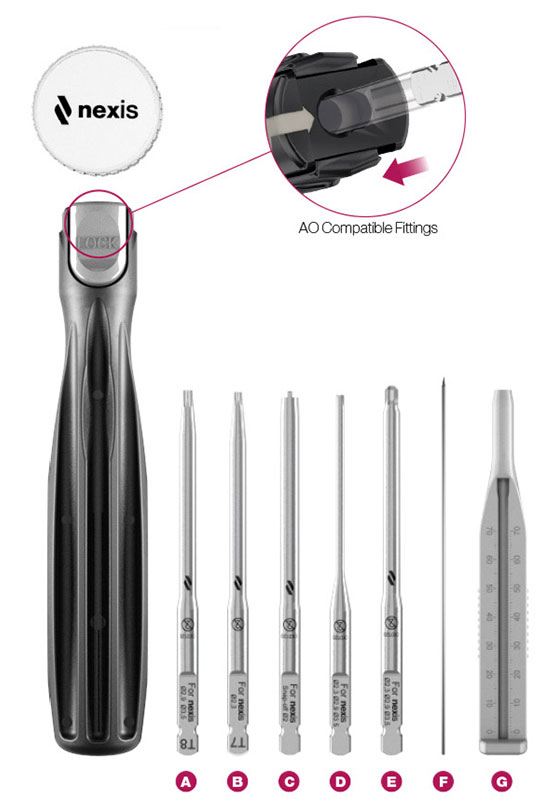 Single Use Instrument Kit
for Nexis 2.3, 2,9, 3.5 & 2.0 Snap-Off
| | Description |
| --- | --- |
| A | Nexis AO T8 screwdriver tip for 2.9 / 3.5mm screws |
| B | Nexis AO T7 screwdriver tip for 2.3mm screws |
| C | Nexis snap-off screwdriver tip |
| D | Nexis Ø1.75 canulated drill bit for 2.3 / 2.9 / 3.5mm screws |
| E | Nexis Countersink reamer Ø2.75 |
| F | Nexis guide wire / K-wire Ø0.9 for 2.3 / 2.9 / 3.5mm screws |
| G | Ruler Lg 80 |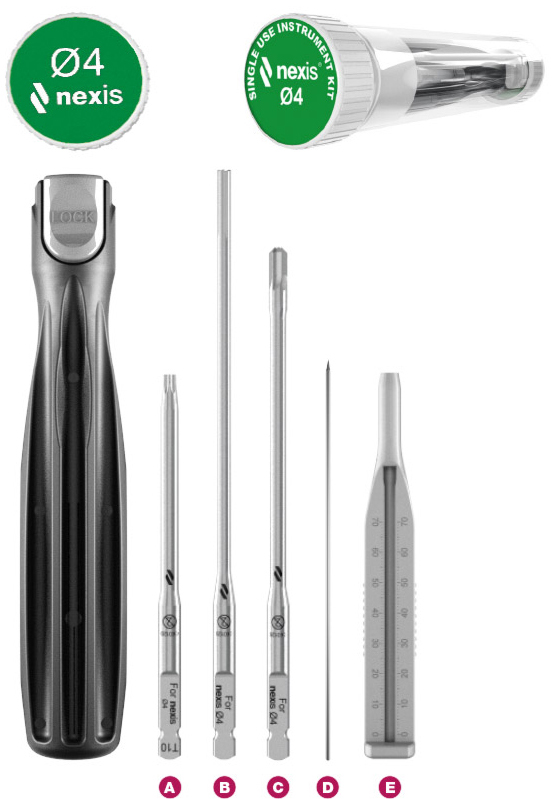 Single Use Instrument Kit
for Nexis 4.0
| | Description |
| --- | --- |
| A | Nexis AO T10 screwdriver tip for 4.0mm screws |
| B | Nexis Ø2.7 cannulated drill bit for 4.0mm screws |
| C | Nexis Ø3.7 countersink reamer for 4.0mm screws |
| D | Nexis guide wire / K-wire Ø1.4 for 4.0mm screws |
| E | Ruler Lg 80 |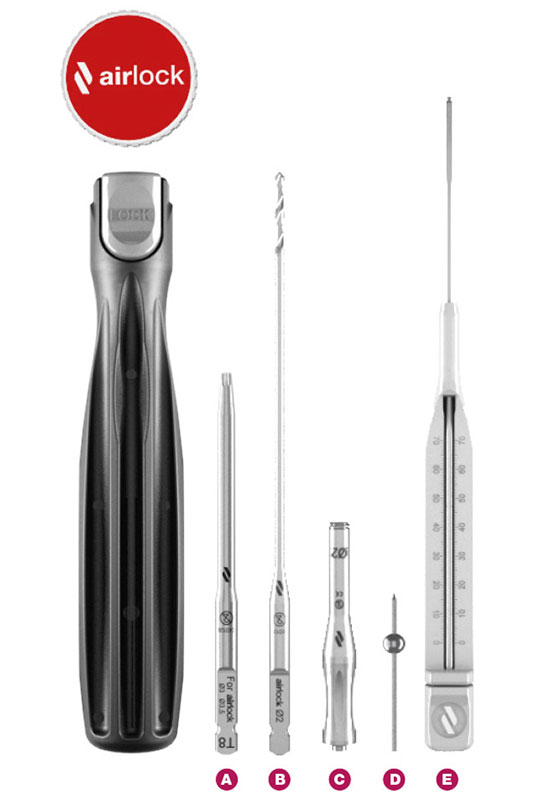 Single Use Instrument Kit
for Airlock Plates
| | Description |
| --- | --- |
| A | Airlock Screwdriver tip AO T8 |
| B | Airlock Drill Bit Ø2.0mm |
| C | Airlock Locking & Compressive drill guide Ø2 |
| D | Airlock guide wire / K-wire with Olive Ø1.0 |
| E | Airlock Depth gauge with Ruler Lg 80 |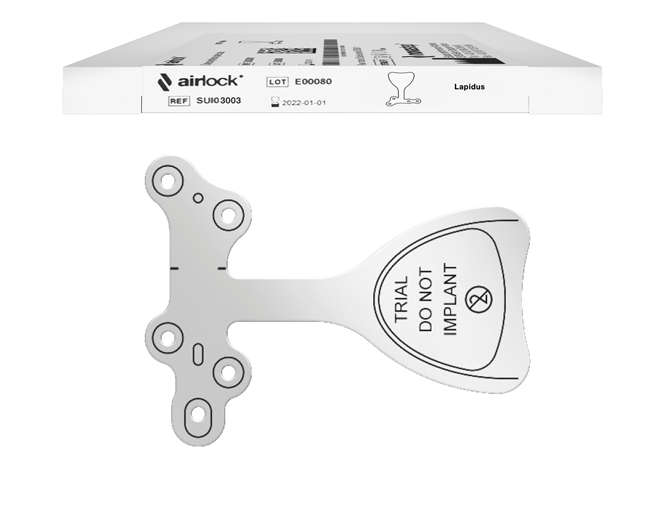 Airlock Plates Lapidus Trials
Description
MTP Lapidus Plates Trial
Airlock Plates Utility Trial
Description
Utility Plates Trial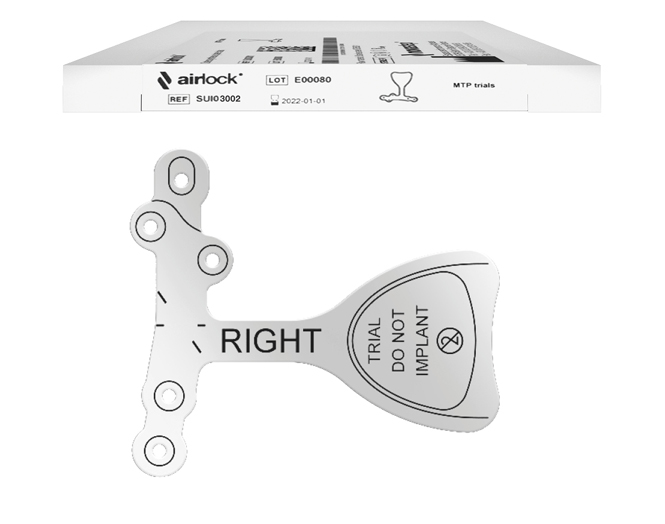 Airlock Plates MTP Trials
Description
MTP Short and Long Plates Trial (Left and Right)
Airlock Plates MT Trials
Description
MT Plates Trial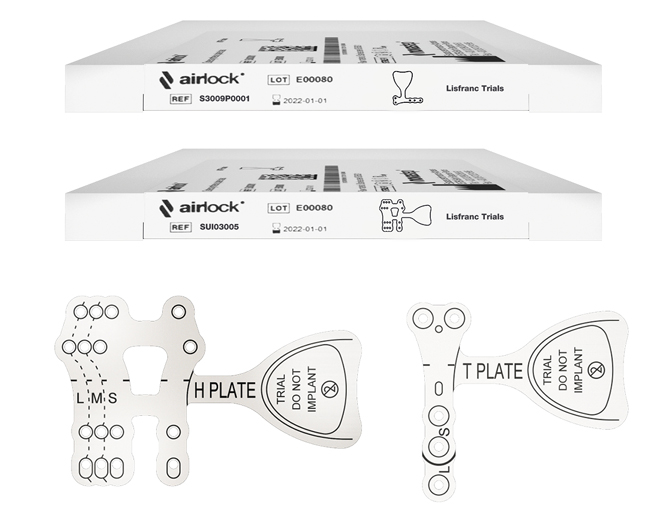 Lisfranc Plates Trials
Description
Lisfranc H-Plate and T-Plate Trial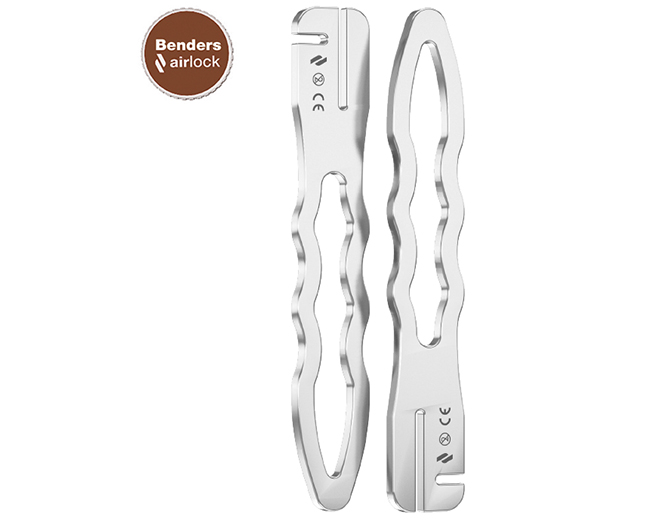 Airlock Plate Benders
Description
Airlock Plate Benders