The Airlock® Ø3.0mm and Ø3.5mm locking and non-locking screws may be used in all Airlock plate fixation holes; however, the compression holes only accommodate Ø3.0mm non-locking screws. A Nexis Ø4.0mm headless compression screw of appropriate length may be used for additional plantar compression. All instrumentation is conveniently organized and color coded (see below).

Monoaxial & Polyaxial Capability
Monoaxial locking screws
Polyaxial non-locking screws
Tapered head
Self-tapping design
Self-retaining driver / screw interface
Airlock with Presslock Upgrade
Airlock 2.0
Airlock 2.0 Reduction Instruments
AirlockGO® Product Delivery Option
AirlockGoTM combines Novastep's Airlock® plating system and cleanSTART® sterile packaged, single-use instrument kits with a selection of Nexis® Ø4.0mm headless compression screws; providing the user with a self-contained, all-inclusive unit that addresses a range of foot and ankle pathologies.
Each AirlockGOTM box features a unique, procedurespecific configuration of implants and instruments that includes precontoured low-profile plates, monoaxial locking, polyaxial non-locking and headless compression screws.
All instrument kits and implants are individually packaged sterile with self-adhesive, UDI compliant data matrix labels.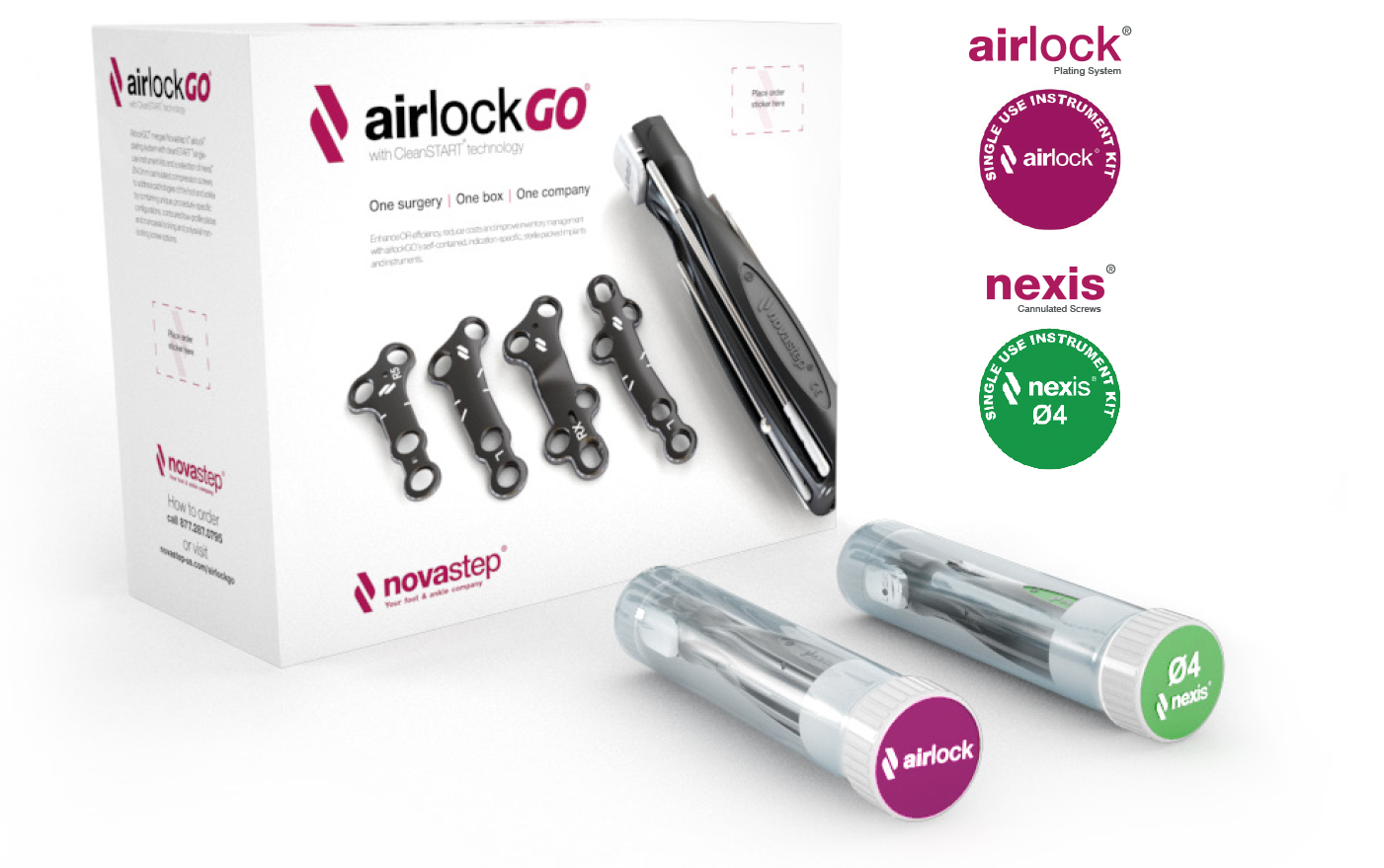 Standard & Short MTP Plates
The unique screw hole design of the MTP plates keep the overall thickness to less than 1.4mm. The anatomic plates are designed with 0° dorsiflexion, delivering 15° of metatarsophalangeal dorsiflexion while preserving 10° anatomical phalangeal valgus.
The linear ("non-clover") distal column allows the plate to be seated underneath the EHL tendon and away from the surgical incision to reduce the risk of post-operative infection or hardware protrusion.
These low-profile plates allow treatment of patients with very thin tissue envelopes. The standard and long plates have a proximal oblong hole for an additional point of fixation and compression.
Long (Revision) MTP Plate
This plate was designed to reduce irritation to the soft tissue structures surrounding the MTP joint, by tapering the distal and proximal ends of the plate to a thickness of 1.35mm.
For improved strength, the plate increases in thickness to 1.6mm along the joint line.
The long plate includes a porthole for the insertion of graft into the fusion site once the plate is secured. This hole will also accomodate a Nexis® Snap-off screw, to secure any cancellous graft in place.