UNIVERSAL COMPRESSION LOCKING FUSION PLATES
Novastep's proprietary Presslock® universal compression locking fusion plates further expand the capabilities of the Airlock® platform by allowing the usage of axially stable locking screws in conjunction with compression slots.
Available in a variety of lengths, in both straight and H designs, these plates are engineered for universal application throughout the midfoot and rearfoot for the fixation of osteotomies, fractures and arthrodeses and are fully compatible with the entire range of Airlock® screws and instruments.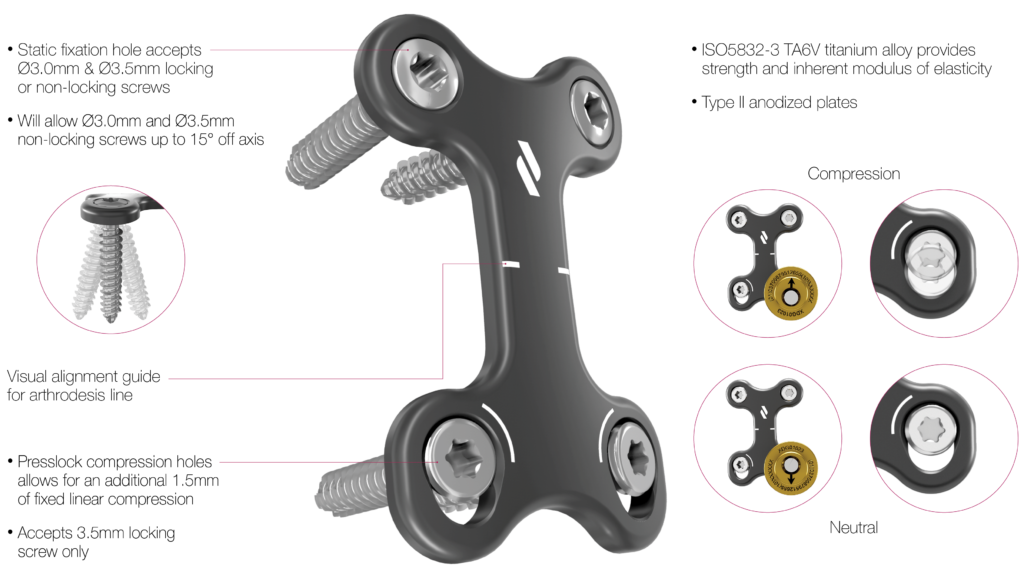 Tarsometatarsal Arthrodesis
Universal Fusion Straight Plate
The universal straight plates can be utilized to achieve strong, stable fixation when performing an arthrodesis of either a single or multiple joints across the tarsometatarsal joint.
With Presslock® technology, you have the added benefit of 1.5mm of fixed compression, or static fixation with no compression when needed in certain cases such as for a Lisfranc fracture or dislocation.
Lapidus Arthrodesis
Universal Fusion Straight Plate
The universal straight plates feature a low-profile, 1.6mm thickness, to reduce the risk of prominent hardware that may cause soft tissue irritation. When used in the Lapidus procedure, two straight plates positioned dorsally and medially, will provide strength, stability and the option to compress along the entire joint.
Dwyer Osteotomy
Universal Fusion Straight Plate
The universal fusion straight plate provides stable fixation for a lateral calcaneal osteotomy. Given that the plate is only 1.6mm thick, it minimizes soft tissue irritation while maintaining strength and stability.
The oblong compression slots accept 3.5mm locking screws only. Both 3.0mm or 3.5mm locking or non-locking screws may be utilized in the remaining hole.
The Presslock® slot generates mechanical compression between two bone segments, before subsequent locking in the threaded part of the slot. To receive 1.5mm of additional locking compression, use the gold drill guide, specifically designed for this technology. If compression is not desired, the Presslock® drill-guide can be reversed and used in the 'neutral' position with the arrow facing away from the bone segment.

The Airlock® Ø3.0mm and Ø3.5mm locking and non-locking screws may be used with all Presslock plates; however,
the compression holes only accommodate Ø3.5mm locking screws. All instrumentation is conveniently organized
and color coded (see below).

Monoaxial & Polyaxial Capability
Monoaxial-locking screws
Polyaxial non-locking screws
Tapered head
Self-tapping design
Self-retaining driver / screw interface